4 Pines Brewing Company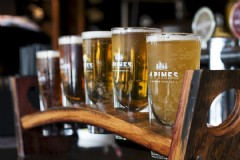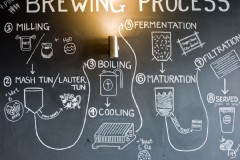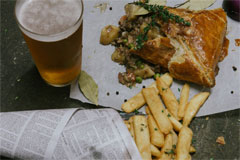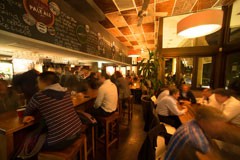 Manly's Own Beer & Only Local Brewery
A visit to this onsite brewery / bar / restaurant is absolutely one of the things to do in Manly (and Sydney)

There is no better way to get the 4 Pines experience than being in the thick of things at our very welcoming venue. The beer is made on site, the music is awesome, the food is yummy and great value, the feeling is cosy and inviting, the staff are great and know loads about beer.
MONDAY
Our shout from 5pm!
A pint on us with any main meal purchased.
Magic Mondays
Jules 'The Great' in the house. Come get a giggle as he shows you what's up his sleeve.
TUESDAY
Curry & Pint | $25
Our chefs showcase 3 amazing curries. All you have to do is choose.
Eclectic Tuesdays
Join us for a smorgasbord of alternative and whacky performers.
WEDNESDAY
Rack of Ribs & Pint | $25
Enjoy a rack of BBQ pork ribs with our famous chunky chips.
Resident Musos
4 Pines' resident musos rock out!
THURSDAY
Parma & Pint | $25
Chicken parmigiana with chips, mash or salad.
Handcrafted Beats
4 Pines' Disc Jockey mashing in the brew house.

FRIDAY
Brewery Tours | $25
Join us for a brewery tour hosted by a qualified beer nut! Tours run daily from 12:30pm and bookings are nonessential.

SATURDAY
Handcrafted Disco
Who doesn't love a late night disco to get the weekend going? Join us as our favourite performers jam til late.

SUNDAY
4 Pines' Famous Sunday Roast | $22
With roast potatoes, pumpkin, French beans and homemade gravy.
Sunday Session
Wind down the weekend with live acoustic tunes and a few drinks...... Perfect!
How To Get Here..
Located just across from the Manly Wharf you couldn't ask for an easier venue to find and with the ferry running throughout the day you are never too far away.
Once at the Manly Wharf simply walk out to East Esplanade Rd (only road and exit at wharf) and cross when the Green Man tells you it's safe. From there turn right and walk 50m. Once you have paced out 50 you will see us sitting above your head. Walk up the stairs and come say hello!!!
You will find us at 43-45 East Esplanade, Manly.
4 Pines Brewing Company
Phone:
(02) 9976 2300
Fax
(02) 9099 2729
Address:
29 43/45 East Esplanade
Manly NSW 2095


Manly & Northern Beaches Information
Other Resources