News
Get on a bike and explore Manly!
Archived 30 Jan 2015
- Posted: 26 May 2014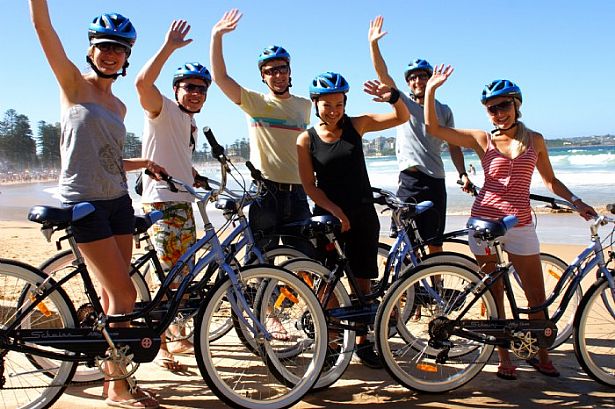 Jump on a bike today and explore the Northern Beaches.. No Car needed, use public transport and walk to 'Manly Bike Tours'

Located only 100 metres from the Manly Ferry Wharf at Shop 6 / 54 West Esplanade, Manly.
We spoke with Rod, from Manly Bike Tours about living and working on the Northern beaches...
1. How long Manly Bike Tours been operating?
We have been operating for over 7 years.
2. How does Manly Bike Tours set itself apart from other rental businesses on the Northern Beaches?
We have set up our Self-Guided Tours in a way that is easy and fun to get around Manly. We offer 4 different rides to choose from; Bike the Beach, Sydney Harbour National Park, Dobroyd Head and Spit Bridge. In addition, we do provide customers with a Personalised Map of the town, recommendations on where to go, things to see and do.
A wide range of quality bicycles for hire, including Cruisers, Hybrids, Road Bikes, Off-Road Mountain Bikes, Kids and Tandems, all at inexpensive prices.
3.What exciting things are happening for Manly Bike Tours?
Whale season is just starting! Our most popular ride takes you to Sydney Harbour National Park to watch the whales from North Head.
4.What do you love most about the Northern Beaches?
Northern Beaches are full of surprises, you will find secluded coves, deserted beaches and breathtaking coastal views, all of that within a few kms.
With over 20kms of dedicated bike paths and off road trails, Manly caters for all levels of riders.
Go in and see the friendly staff and experience one of many suggested routes of the area including Bike the Beach, Sydney Harbour National Park Explorer and off-road mountain bike adventure to Manly Dam.
If you are interested in a Manly Bike Tour follow the link to their profile.
This article archived 30 Jan 2015
Recent News
What's New
See also:
News Menu:

Manly & Northern Beaches Information
Other Resources