News
Sea Life Sydney Aquarium and Manly Sea Life Sanctuary teams make second successful rescue of injured grey nurse shark
Archived 27 Oct 2014
- Posted: 27 Jun 2014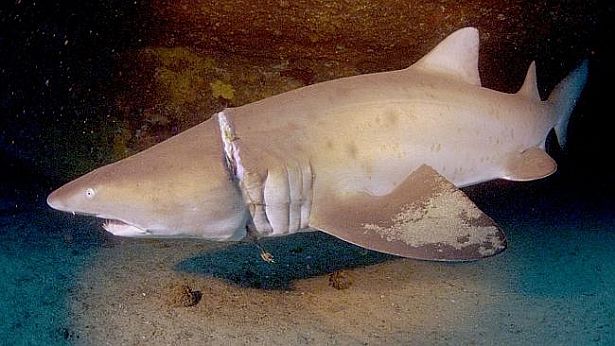 MOST people who see a grumpy, distressed shark with hooks in its mouth would swim quickly away.

Source:
The Daily Telegraph
But not the daring folk from Sea Life Sydney Aquarium and Manly Sea Life Sanctuary ... they just dive straight in, teeth and all.
And that's exactly what they did recently during the rescue of an endangered grey nurse shark at Magic Point near Maroubra Beach.
The 1.2m shark had fishing hooks caught in its mouth which would have caused serious infection and eventual death if not for the intervention of the twelve-strong team who travelled to the site by boat.
The shark was identified as being distressed by 'Spot a Shark' along with other recreational divers who frequent the area.
Experienced vet Rob Jones and a fisheries expert from The Department of Primary Industries encouraged the female juvenile shark into a plastic 'sock' where they were able to safely bring the animal to the surface of the water via a stretcher.
It was then moved it into a tub on the deck of the boat where the hooks were removed from its mouth.
A dose of antibiotics and vitamin treatment completed the lifesaving intervention.
Rob Townsend, life sciences manager at Manly Sea Life Sanctuary, played a critical role in providing treatment to the shark.
"Today was an opportunity to provide lifesaving treatment to a critically endangered animal in desperate need of intervention," he said.
Grey nurse sharks are highly susceptible to recreational fishing gear and it is obviously frustrating to see a beautiful animal suffering from an injury such as this.
"This shark was seen to be deteriorating over a period of time, noticeably getting thinner with a possible infection as a result of the hooks.Picture: Dean Cropp
Follow link for full story...
This article archived 27 Oct 2014
Recent News
What's New
See also:
News Menu:

Manly & Northern Beaches Information
Other Resources