News
Steer clear of migrating whales
Archived 11 Oct 2014
- Posted: 11 Jun 2014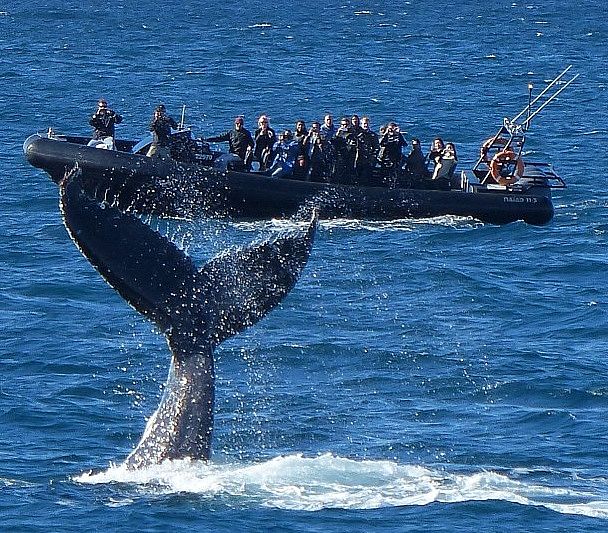 THE official whale-watching season began on the weekend and already a complaint has been made of people approaching them too closely off the peninsula.

Source: John Morcombe- Manly Daily
That's despite fines of up to $11,000 or two years' imprisonment if people approach whales too closely.
On Monday a Dee Why couple saw a whale migrating north surrounded by a flotilla of water craft.
Joan Edison said two whale-watching boats were staying the required distance from the whale but that five small motor cruisers, a yacht and two surf skis were well within the proscribed limit of 100m from which people are by law excluded.
Manly Fast Ferry co-director Richard Ford said private boats were often a problem for whale-watching operators such as his company, although sometimes the mistakes are unintended.
"On weekends we have a constant issue with private boats," he said.
"If they get too close to the whales, the whales stop breaching or swim away, which ruins the experience for everyone."
Regulations in NSW stipulate that craft cannot go within 100m of a whale, or 300m of a whale calf, but there is no breach if the whale swims past a stationary boat, as long as the master of the vessel has not deliberately stopped in the whale's path.
National Parks and Wildlife Service spokesman Lawrence Orel said the regulations were designed to protect humans as well as whales.
"Whales need space, as crowding a whale, whether by boats or surfers and swimmers, brings increase risk to whales and to people," he said.
"Already there have been reports of private vessels getting too close to migrating whales and last year a surfer was taken to hospital after being struck by a whale at Bondi.
"Whales that are harassed by boats or by being crowded-out by people can strike out with their fins and tails.
Follow link to read full story...
Jump onboard Sydney's smallest, most personal and most exciting whale watching experience.
Owned and skippered by a Manly local, Manly Ocean Adventures operates the only completely open adventure vessel for an unparalleled, unobstructed and up-close viewing experience.
Book a whale watching experience today!
This article archived 11 Oct 2014
Recent News
What's New
See also:
News Menu:

Manly & Northern Beaches Information
Other Resources