Manly Food, Wine & Sustainability Festival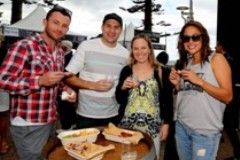 Manly Food & Wine Festival
30 and 31 May 2015

Taste of Manly brings the unique laid-back Manly vibe to life, combining fun in the sun and some of Australia's best wineries with scrumptious meals from the many gourmet eateries right on the streets of this seaside village. Won't you join us?


If sipping wonderful wines in the sunshine and nibbling on delicious foods while listening to great music sounds like the perfect way to spend a weekend, where better to do it than right next to one of Australia's favourite beaches?
Recently voted the fifth best beach in Australia and the best urban beach across the country, Manly Beach is much more than the gorgeous surf and sand.
Now in its 29th year, the Taste of Manly is a major community and tourism event on the Australian event calendar and takes place in the heart of Manly along The Corso and picturesque Manly Beach. Up to 15,000 food and wine enthusiasts from Sydney and NSW, interstate and overseas flock to Manly each day to experience this Festival.
Entertainment
The 2015 Festival will bring you a fantastic variety of free entertainment including great live music acts, cooking demonstrations and our Sustainability Hub. Stay tuned for full program details.
Food, Wine & More!
Enjoy a tasty treat and splash of something with our exciting line up of stallholders taking place this year.
Volunteers
We are always looking for enthusiastic people to assist in a number of volunteer roles. For more information contact 02 9976 1556.
Transport
The easiest way to the Manly Food, Wine & Sustainability Festival is to use buses or ferries. If you do use your car we advise to park away from Manly's town centre as the roads become heavily congested and parking close to the event can be difficult.

A road closure will be in place between 4.00pm Friday 29 May till 7.00am Monday 1 June 2015 between the corner intersection South Steyne/Wentworth Street and the corner intersection North Steyne/Raglan Street.

To support the sustainability of the festival and local area, residents and general event goers are encouraged to walk, cycle or use the Council's free Hop Skip and Jump bus service to Manly for the festival. Additional bike racks will be provided at North Steyne.
How To Get Here..
When: Saturday 30 May – Sunday 31 May, 2015. 11.30am - 5.00pm daily.
Where: The Corso and Manly Beach

Manly Food, Wine & Sustainability Festival
Phone:
(02) 9976 1430
Address:
Manly Events & Tourism
Manly 2095


Manly & Northern Beaches Information
Other Resources