North Head Sanctuary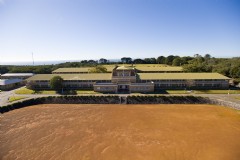 BEAUTIFUL WALKS, BREATHTAKING VIEWS
A remarkable setting, North Head Sanctuary is home to the most delicate and precious system of flora and fauna, complete with hanging swamps.

Its wild, island-like nature has made North Head Sanctuary a place for isolation, observation and contemplation.

Rich in history and a special place for the Aboriginal people, the dramatic cliffs of North Head form a memorable entry to Sydney Harbour with superb views of the harbour from the cliff tops.




Experiences at North Head Sanctuary
Walks and self-guided tours
North Head Sanctuary is a spectacular place to walk. The quite serenity of the headland is perfect for contemplating the city of four million people in the distance. Enjoy a leisurely stroll along the bush tracks and observe the native wildlife. This walk also forms part of the Sydney Coastal walk.
Tours
Our guides can take you around the North Head Sanctuary and to places not normally visited by the public. The guided tours are done in conjunction with the North Fort Artillery Museum and give an insight into the fascinating military history of the area and include venturing into the tunnels and fortifications.
Lookouts
The walking track at North Head Sanctuary offers a number of places to view the city through untouched bushland. The North Head Sanctuary track leads through to North Fort and then onto Fairfax Lookout in the Sydney Harbour National Park.
Eating
North Head Sanctuary offers many idyllic settings for picnics and Bella Vista Cafe is open weekdays from 9am - 4pm and weekends 8.30am - 4pm, serving breakfast, morning tea, lunch and afternoon tea.
Gabriella Freddo is your host, serving traditional home-style Italian food made only from the highest-quality ingredients. With its warm, welcoming ambience and spectacular natural setting, Bella Vista Cafe is a must-visit on your next North Head trip.
Kids' Programs
Visit the Discovery Room at the Gatehouse Visitor Centre for free children's activities. Children can make a bandicoot mask or flannel flower. There is a range of books to read, a microscope to examine bush remnants and other interactive activities.
Nature and Wildlife
The bushland at North Head provides habitat for a wide range of native species. One of the largest remnant areas of the endangered Eastern Suburbs Banksia Scrub (ESBS) exists on North Head. This heath-like plant community thrives on the headland.
Also keep a look out for the many birds, including the New Holland Honeyeater, the white browned scrub-wren, rainbow lorikeets and the little wattle bird. If you are lucky, bandicoots and possums may also make an appearance.
Native Plant Nursery
Volunteers at the Native Plant Nursery are working to propagate plant species that are indigenous to North Head, particularly the endangered population of Eastern Suburbs Banksia Scrub. The nursery is open every weekend from 10am to 4pm.You too can get involved in saving North Head's precious native species by volunteering with the North Head Sanctuary Foundation.
Walks, Tours and History
If history is your thing, then North Head Sanctuary plays host to important military fortifications which were integral to Sydney's defence in World War II and the Third Quarantine Cemetery where over 240 people were buried between 1881-1919.
If you want to dig deeper, take one of our guided tours. Bushland, Barracks and Batteries covers the military history and natural beauty of North Head Sanctuary and takes place the second Sunday of each month at 12:45pm, while the North Fort tour takes you through the World War II tunnels and gun emplacements and takes places every Sunday at 10:30am, 11:30am, 1:00pm and 2:00pm. For bookings, call (02) 8969 2100.
The Nursery Group is a part of the North Head Sanctuary Foundation, a group of volunteers, partnering with the Sydney Harbour Federation Trust to maintain and preserve the vision of the Sanctuary at North Head. Much of the Sanctuary is Eastern Suburbs Banksia Scrub (ESBS), an endangered ecological community, which the nursery showcases throughout the Sanctuary.
Alternatively, you can discover more about the unique flora and fauna by taking a bushland walking tour with the Earthwatch Institute and the Australian Wildlife Conservancy.
Kids
Peaceful yet accessible, with a unique natural environment,North Head Sanctuary has become a hub of research and education activity covering flora, fauna, hospitality, events, tourism, science and sport. The Sydney Harbour Federation Trust offers a range of hands-on environmental education programs and activities for schools and families.
Opening Hours and Entry
North Head Sanctuary is open every day during daylight hours.
The Gatehouse Visitor Centre is open daily from 10 am - 4 pm, except Christmas Day, New Year's Day and Good Friday.
Entry is free.
How To Get Here..
By car:
From Manly follow Darley Road onto Scenic Drive. Turn left off Scenic Drive at the North Head Sanctuary sign. Parking is available on site.
By bus:
Sydney buses run to North Head daily. The 135 service from Manly Wharf leaves approximately every ½ hour. For further information and timetables check the Transport Infoline Websit.
By foot:
The walk from Manly wharf to the North Head Sanctuary takes approximately 45 minutes. Walking tracks link to the North Head Sanctuary from Shelley Beach and Collins Beach.
North Head Sanctuary
Phone:
(02) 8969 2100
Fax
(02) 8969 2120
Address:
Scenic Drive
Manly NSW 2095
Postal Address:
PO Box 607
Mosman NSW 2088


Manly & Northern Beaches Information
Other Resources