What's On
Expired Event - Wine and Dine Sydney's 8th April Roaming Dinner Party - 8 Apr 2017
This is a past event:
Search for New Events »
Wine and Dine Sydney's 8th April Roaming Dinner Party
Details:
Thanks to Wine and Dine Sydney, first date nerves are now a thing of the past.

What's a Roaming Dinner Party?

Think Come Dine With Me, add a touch of speed dating, and you have a night with your friends for all food and wine lovers to enjoy.

So how does the evening work?

There are two ways to sign up; either with friends (all of the same sex), or you can sign up yourself and Wine & Dine Sydney will match you with others of the same sex to form your group.

One sex will host, whilst the other will roam. The hosts will cook a delicious 3 course meal, and the roamers move though 3 different locations, having one course at each location, and providing the wine! At each event the roles reverse.

Following dinner, all participants on the night are invited to attend an exclusive after party held at Donny's bar, Manly. The after party gives guests the chance to catch up with anyone they clicked with during the dinners, as well as meet other participants they didn't get to meet throughout the evening.

And to get to and from the different locations, Uber's will transport the roamers between the dinners, and then everyone to the after party (which will be refundable after the event).

Whilst the dinners are located on the Northern Beaches, this isn't just for locals North of the bridge. Wine & Dine Sydney provide additional Airbnb packages for people outside the area wanting to host. And if its your turn to roam it does not matter where you live as you don't need a location to host.

The next Wine and Dine Sydney event will be held on Saturday 8th April This time round it's the ladies turn to host and cook a lovely meal, whilst the gents will roam and supply the wine.

So if you're a guy or girl aged 24-45, and would like to meet new people of the opposite sex with your friends, or just love to wine and dine, then Wine & Dine Sydney's event is definitely for you.

Head over to the website link to learn more!
Location:
Northern Beaches
Share Event
Share
Wine and Dine Sydney's 8th April Roaming Dinner Party

with friends.
What's New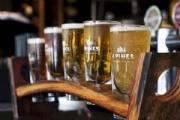 At 4 Pines we create beer we want to drink & that our mates are proud of! Drop in today.
more »
Overlook Pittwater and experience our beaches, surfing, bushwalking, tennis, golf, catered cruises & sailing.
more »
What's On Menu:

Manly & Northern Beaches Information
Other Resources