Manly History
Manly Aboriginal Heritage
Manly is situated on the land of the Guringai people, the traditional owners of this land.
Aboriginal people are part of the oldest surviving continuous culture in the world.
Early relations between the first colonists and the Guringai people quickly soured.
1789 - Smallpox epidemic spread through the local Aboriginal tribes.
By the 1830's, only a few Aboriginal people remained in the Manly area
Recorded Aboriginal sites included shelter, midden sites, rock engravings, open midden sites, shelter cave art and open camp sites.
Manly Brief European History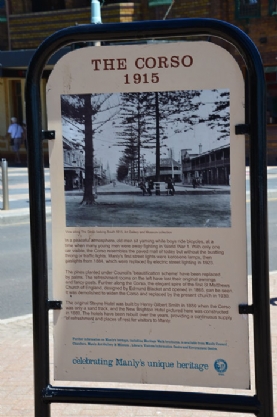 | | |
| --- | --- |
| 1787 | Captain Arthur Phillip of the Royal Navy left England with a fleet of ships to establish a colony in New South Wales. He was to be its first Governor. |
| 1788 | January - The fleet arrived at its destination, Botany Bay, which was found to be unsuitable for settlement. |
| 1788 | 21 January - Captain Arthur Phillip with others travelled north and examined Port Jackson, so named by Captain James Cook in 1770. They spent three days exploring Port Jackson. Phillip was impressed by the "confidence and manly behaviour" of a group of Aboriginal people in the northern reaches of the harbour. As such they called the place "Manly Cove". |
| 1788 | Captain John Hunter's sketch of North Arm placed Manly Cove at the western end of North Harbour, Collins Cove being the name originally given to what is Manly Cove today. |
| ~1822 | An early map shows a plan of a proposed township of Manly. Certainly the quiet waters of North Harbour would have afforded greater protection for the small boats that were the only link with Sydney during that period. |
| Early 1820s | Scattered settlement began in the Manly Cove and North Harbour areas. |
| | Henry Gilbert Smith, an English businessman living in Sydney, saw that Manly - with an ocean beach on one side and fine sandy cove on the other - could provide a great "watering place" for the people of Sydney, as Brighton did for Londoners. |
| 1850s | Smith started acquiring land in the area. |
| | Norfolk Island pines were planted along the harbour foreshore. |
| 1855 | Smith had a pier constructed a little east of the Manly Wharf, the Pier Hotel was built and The Corso was cleared linking the harbour with the ocean beach. |
| | Smith encouraged the growth of a ferry service to Manly. Excursion trips were available. |
| By 1856 | A daily ferry service was in place. |
| 1859 | Smith acquired the steamer "Phantom" specifically for the Manly to Sydney run. |
| | Henry Gilbert Smith did many other beneficial things for the new community, too, including donating land so that parks, churches, schools and other buildings could be established. |
| 6 Jan 1877 | Municipality incorporated. Manly achieved its own seat of Local Government. |
Manly was very much a village then and while many things have changed over the years, Manly is still affectionately referred to as 'The Village'.

Manly & Northern Beaches Information
Other Resources