News
5 Reasons to be on ManlyAustralia.com
Archived 31 Jan 2015
- Posted: 12 May 2014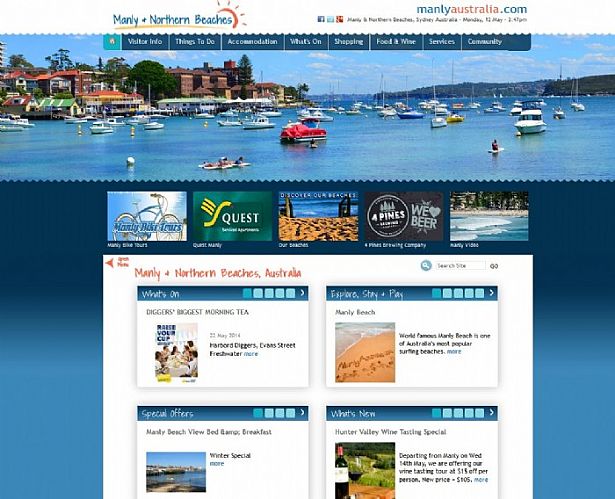 ManlyAustralia.com attracts over 450,000 visitors each year.

This is now supplemented by our brand new Facebook Page.

Generate measurable results by advertising on ManlyAustralia.com.
Your business is featured on both the 'Full Website' and innovative
cross platform 'Mobile Website'
1. We Reach Your Customers
Our website is all about Manly and the Northern Beaches- Our community, local businesses and tourism. The website is a centralised resource for locals and visitors featuring shopping, what's on, schools, things to see & do, trades & services and more. Employing a rich SEO strategy, the website attracts visitors through achieving top rankings for a diverse range of search terms resulting in multiple entry points into the website. You may be surprised to know that there are several target specific pages which attract even more visitors than the home page! The website also directly benefits from our high profile, community engaging social media campaigns.
2. We Provide Active Exposure
Most website advertising is passive, meaning you are added to a category and visitors have to search through the site to find your business. In addition to being featured within the directory, ManlyAustralia.com provides you with the opportunity to post announcements, showcase products, be part of centralised video galleries and much more. Similar to browsing through a newspaper or magazine, through using the amazing features freely available to you, your business can be seen in multiple places throughout the site.
3. We Help Our Customers Maximise Their Potential
We want the best for your business. Our dedicated customer service team regularly review Business Profiles and performance results to ensure our customers maximise their potential. We provide free customer support to assist you with taking full advantage of images, text, announcements, videos, social media and other features available to you.
4. We Are Independent - Your Success is Our Success
Like most commercial businesses, being independent means that you do not benefit from, or depend on government hand-outs or support. Our funding is solely through the support of advertisers choosing to be part of our website. To be commercially sustainable we must continue to be passionate about what we do, produce an excellent product combined with outstanding customer service, and most importantly deliver results for our clients. ManlyAustralia.com has been operating since 2006 thanks to the loyal support of our advertisers who continue to benefit from the website's success.
5. We Offer Affordable Year Round Exposure
You could easily pay over $500+ for a quarter page advertisement in the local paper for just one dayand not know how many people actually saw your ad. On ManlyAustralia.com you can advertise with our Top Level Enhanced Profile service for an entire year packed with features for just $390 and know exactly how many people actively chose to view your Business Profile and took action!

Our Economy Profile still offers plenty of features for just $145 per year, that's just under 40c per day, ideal for those on a tight budget.
For enquiries please contact Stephanie@straliaweb.com.au
OR Phone: (02) 4751 7298
This article archived 31 Jan 2015
Recent News
What's New
See also:
News Menu:

Manly & Northern Beaches Information
Other Resources