News
Guzman y Gomez Manly Wharf
Archived 31 Mar 2015
- Posted: 28 May 2014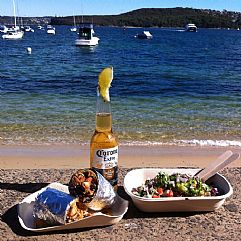 Located on Manly Wharf, visit us before your trip into Manly, or grab a buritto on your way out for the ferry ride!
We spoke with Nick, from Guzman y Gomez Manly Wharf, about living and working on the Northern beaches...
1. How long has Guzman y Gomez been operating?
Guzman Y Gomez Manly Wharf opened it's doors on March 15th 2013 with our free burrito day. We gave away 4500 free burritos in 9 hours!! That's approx. 8 burritos a minute all freshly made to order with customisations!
2. How does Guzman y Gomez set itself apart from other venues on the Northern Beaches?
We offer a fast/casual dining experience with fresh authentic Mexican flavours. Our menu is built on traditional Mexican flavours and made from only the highest quality ingredients. We also serve a selection of our famous frozen cocktails
and imported Mexican beers. We have dine in and takeaway options. We also do catering packages.
3. What exciting things are happening for Guzman y Gomez Company?
Guzman Y Gomez is growing rapidly bringing Latin culture and authentic Mexican food all around Australia. We just opened our 40th store! Even though we are growing rapidly we will never sacrifice on our food! We have also just launched our online ordering and this year we will release ordering through our Guzman Y Gomez iPhone app!
4. What do you love most about the Northern Beaches?
The people, the beaches and it's proximity to one of the best cities in the world!
Trading Hours:
Sun to Thurs: 11am – 10pm
Fri & Sat: 11am-11pm
If you are interested in a Burrito on the Beach follow the link to their profile!
This article archived 31 Mar 2015
Recent News
What's New
See also:
News Menu:

Manly & Northern Beaches Information
Other Resources