News
Manly Food, Wine & Sustainability Festival
Archived 30 Jun 2014
- Posted: 28 May 2014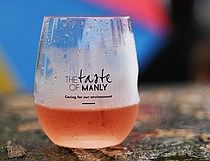 31st May and 1st June 2014.

The Food, Wine and Sustainability Festival is a major community and tourism event on the Australian event calendar and takes place in the heart of Manly along The Corso and picturesque Manly Beach.
One of Sydney's best loved food and wine festivals at Sydney's favourite beachside location, the Manly Food, Wine & Sustainability Festival features stalls operated by top names in food and wine dotted along Manly's ocean beachfront and The Corso.
One of Sydney's largest celebrations of food and wine, the Manly Food, Wine & Sustainability Festival's traditional and much loved open-air format attracts an estimated 30,000 patrons over the weekend, drawn by one of the world's most scenic beaches, beautiful harbour and the delectable range of quality food and wines on offer.
Some of Manly's best eateries and restaurants will participate including Papi Chulo, Old Manly Boatshed, Manly Phoenix, Boilerhouse Harbourside Restaurant at Q Station, Patploy Thai, Bavarian Bier Cafe, de Vita - Tastes of Napoli and Manly Grill.
Wineries range from boutique to popular favourites such as Tamburlaine Organic Wines, Kevin Sobels, Brokenwood, Pepper Tree, Tulloch, Lindemans, McWilliams Mount Pleasant, Philip Shaw and Morambro Creek Wines.
There will be cooking demonstrations by Papi Chulo and Boilerhouse and for the third year in a row, students from local high schools studying hospitality will compete in the 'Northern Beaches Hospitality Challenge' cooking competition.
The Old Manly Boatshed will entertain at the John Speight Stage on The Corso with a great range of popular Australian bands. At the Moonshine Stage be entertained with some rock/blues and folk tunes sponsored by the Hotel Steyne such as Sons of the East, OXBVLD, The Sweet Jelly Rolls and many more.
Manly Markets will be relocated along the beachfront for the weekend with new and creative arts and crafts with something for everyone. And there'll be fun family rides at North Steyne!
Follow link for Full Story
This article archived 30 Jun 2014
Recent News
What's New
See also:
News Menu:

Manly & Northern Beaches Information
Other Resources