News
Q STATION MANLY, THE ULTIMATE SYDNEY RETREAT
Archived 31 Jan 2015
- Posted: 6 Jun 2014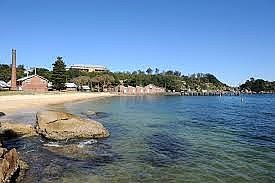 Just 35 minutes from central Sydney, 5 minutes from Manly Beach and set on Sydney's glorious harbour, Q Station is one of Australia's most compelling and unique heritage retreats, preserved within 36 hectares of Sydney Harbour National Park at North Head.


As Australia's first and oldest Quarantine Station, the station operated from 1833 to 1984 and it was where people onmigrant ships arriving in Sydney with suspected contagious disease were quarantined. Originally chosen for its isolation and safe anchorage options, the site today comprises 65 buildings, several archaeological sites and spectacular vantage points for viewing Sydney Harbour and the Sydney Harbour National Park.
Q Station is now a bustling retreat which boasts elegant, refurbished accommodation in-keeping with its National Heritage status and offers a plethora of activities – many of which are tailored for the health and wellbeing market and include stand-up paddle boarding, kayaking, snorkelling, bushwalking, cycling and walking tours to name a few. The world-renowned Q Station ghost tours are also an obvious drawcard and see guests come from every corner of the globe to experience its ghostly encounters.
How to get here...
When it comes to arriving at Q Station, gaining access to the grounds has never been easier. Due to popular demand, as of January 2013 there is now a new ferry service which docks at Quarantine Wharf on the shores of Q Station where people can hop-on, hop-off from Circular Quay, Watsons Bar or Darling Harbour. This service runs 6 times daily!
In other exciting news....
Because of the immense amount artefacts at Q Station, there is now a permanent outdoor exhibition from Q Station's movable heritage collection and there is an on-site curator on hand to educate guests about their historical significance.
Accommodation...
In-keeping with the National Park surrounds, all of the 82 guestrooms have been sensitively restored and have a fresh and contemporary feel. All eight of the three-bedroom cottages have recently been renovated and are perfect for families or larger groups. Most of the guestrooms come with impressive vistas over Sydney Harbour and have large sweeping verandahs.
Boilerhouse Restaurant & Terrace...
Located by the waters of Quarantine Beach and serves contemporary Australian cuisine and enjoys picturesque views. Two giant boilers from the 1800s have been carefully restored and the walls of the restaurant are covered with enormous pipes and valves that once sent boiling water to the showers and laundry – all adding to the atmospheric surrounds of the restaurant.
With the hustle and bustle of Manly Beach just a bike ride away and with plans for a luxurious Day Spa underway, a day or two exploring Q Station and its surrounds will be richly rewarded.
Follow link to view Profile...
This article archived 31 Jan 2015
Recent News
What's New
See also:
News Menu:

Manly & Northern Beaches Information
Other Resources