Beach Volleyball
Beach Volleyball is a team sport played by two separate teams, with two players, on a sand court. The court is divided by an overhead net. Manly Beach is a popular spot to find people playing beach volleyball. The courts are free to use for the general public, provided they are empty.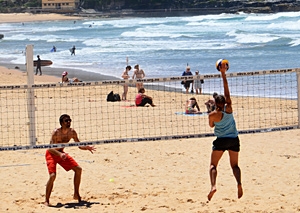 Guidelines for use of Manly Beach Volleyball Courts:
The courts are free of charge for the general public.
You may play if the court is empty
You may join a game courtesy of existing players
Or
You may challenge a team.
How to challenge a court:
Challenge a court that is close to your own playing level
A challenge is laid by putting a standing up object by the closest net post (stick, shoe, bottle etc)
If there are other objects there, place your object at the end of the line.
General Beach Volley Ball rules:
One set of 'point per rally' to 21 points
Change sides at the end of every 7 points.
Winner stays on
*Volleyball balls are not supplied.
Tournaments
Local tournaments are organised once a month through the summer.


Manly & Northern Beaches Information
Other Resources