Narrabeen Lakes
Narrabeen Lakes (also referred to as Narrabeen Lagoon) is Sydney's Northern Beaches largest estuary system located just behind the world famous surfing beach at Narrabeen. Narrabeen Lagoon is also a haven for wildlife.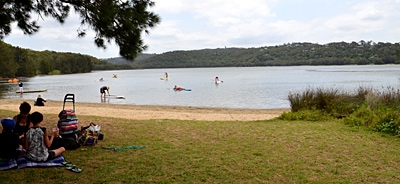 Stretching 55 square kilometres and encompassing a water way area of 2.2 square kilometres, the Lagoon provides countless opportunities to educate students about catchment conservation. Narrabeen Lakes is great place for bush walking, water sports and line fishing which is permitted in the aquatic reserve. Windsurfing, sailing and boating is also permitted.
Access to Narrabeen Lagoon has been improved thanks to the Multi-use Trail that can be used by walkers, cyclists and people of all abilities. Dogs are permitted on a leash. Access the trail from Jamieson Park and Berry Reserve.
Numerous car parks are located around the Lagoon close to picnic areas, playgrounds and boating ramps.
Narrabeen Lagoon Trail Project
Due for completion in December 2014, locals and visitors will soon be able to walk or ride around the entire Narrabeen Lagoon circuit.
Middle Creek to Bilarong Reserve (2.2km)
Bilarong Reserve to Berry reserve (1.2km)
Berry Reserve to Jamieson Park (1.5km)
Jamieson Park to South Creek (2.3km)
South Creek to Middle Creek (under construction)
Narrabeen Lakes to Manly Lagoon Walk
The walk between Narrabeen Lakes to Manly Lagoon is one of the most popular walks along the Northern Beaches. This six-hour walk is the perfect scenic walk featuring rocky headlands, sweeping beaches and four lagoons, with links to Narrabeen Lakes and Manly Dam Reserve. There is plenty of variety along the way as the track passes through sand dunes close to lagoons, beaches, ocean swimming pools and cliff-top walks. Put your running shoes on and enjoy a stunning scenic walk along the string of golden beaches including; Collaroy, Curl Curl, Freshwater, Long Reef, Manly, Narrabeen and North Steyne.
Note: Bus stops are located along the walk at regular intervals which provide flexibility when deciding where to begin and end your walk.
Narrabeen Lakes Facilities:
Public toilets
Showers
Picnic Tables
Playground
Picnic Area
Parking
Bus Stop within 100m
Garbage bin
Boat Ramp

Manly & Northern Beaches Information
Other Resources